Q: What are three examples of TCP/IP application layer protocols? (Choose three.)
A: a terminal emulation protocol that supports remote console connections with various network devices
A: a protocol responsible for transporting electronic mail on TCP/IP networks and the Internet
A: a protocol that exchanges network management information between a network device and a management console
Q: Refer to the exhibit. The exhibit shows simplified protocol data units from different OSI model layers. Which three statements are true
about the PDUs and the encapsulation process?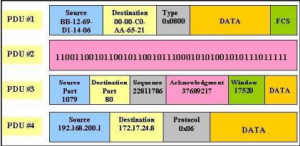 A: PDU #1 is a frame.
A: PDU #3 is a segment.
A: The order in which these PDUs are created during the encapsulation process is 3, 4, 1, 2.
[Read more…]