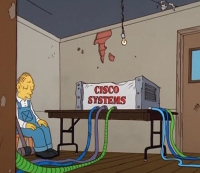 Some correct answers from CCNA-4 Module 3 Exam:
Q: What two methods does Frame Relay technology use to process frames that contain errors?
Frame Relay services depend on the upper layer protocols to handle error recovery.
The receiving device drops any frames that contain errors without notifying the sender.
Q: What consideration must be taken into account if RIP is used on Frame Relay multiaccess networks?
To forward routing updates, address-to-DLCI mapping must be done via the use of the frame-relay map command coupled with the broadcast keyword.
Q: Which best describes the benefit of using Frame Relay as opposed to a leased line or ISDN service?
Customers only pay for the local loop and the bandwidth they purchase from the network provider.
Q: What best describes the use of a data-link connection identifier (DLCI)?
locally significant address used to identify a virtual circuit
Q: What is created between two DTEs in a Frame Relay network?
virtual circuit
Q: Which two items allow the router to map data link layer addresses to network layer addresses in a Frame Relay network?
Inverse ARP
LMI status messages
Q: Which three actions might a Frame Relay switch perform when it detects an excessive build-up of frames in its queue?
drops frames from the queue that have the DE bit set
sets the FECN bit on all frames it receives on the congested link
sets the BECN bit on all frames it places on the congested link
Q: Which statement about Frame Relay subinterfaces is correct?
Point-to-point subinterfaces act like leased lines and eliminate split-horizon routing issues.