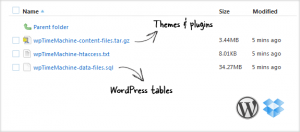 And I'm still fascinating of the Dropbox service. I found another useful plugin for WordPress wpTimeMachine that makes Backuping easy for you. It makes a backup to your existing Dropbox account.
This plugin can perform an automatic backup of your Word Press MySQL-database your themes, plug-ins and all the other files and images that you may uploaded to your Word Press folder.

After installation of the plugin, just enter your Dropbox credentials and hit the Generate Archive button.
After making a sandwich you backup should be finished and you find you data on your Dropbox account.
Some Screenshots: