Sometimes in the evening is music great to relax or to hear to it incidentally while you do something.
I combined light with music – no so extreme like in the disco.
I bought some LEDs and a couple of TIP31 transistors. Transistors are the main key to the result! The first test was done on a breadboard.

The first impression and the result was not bad – I've made a little movie:) – Download IT
To buy list:
2 tip31 transistors – 0,66€
2 220Ω Ohm resistor 0,09€
4 5mm LEDs (The right color is up to you) – If I had only some more blue:( I took white. – 0,64€
You need a input source 9-12V Adapter (can be your old phone charger, or a 9V block battery) I used 15V with 200mA
In the kitchen I found a great cap of fabric softener, with a non transparent area.
I've made some holes for the 3.5 inch and for the switch.
Inside the cap I let a half of a magnet from a HDD, the cap can be placed to metal objects.
To use the music box you will need a 3.5 mm Y-splitter.
Circuit: – Click to resize.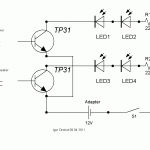 If you use a 9V block battery, 120-150Ω resistors should be enough.
A little help for transistors:(click to resize)

And of course some photos: – click on picture to resize!