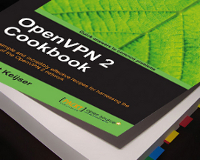 Some days ago I was informed by Ananjan Chaudhuri about the new OpenVPN 2 Cookbook written by Jan Just Keijser, I love OpenVPN and I took a look in to the free sample chapters. I found them really interesting, because I use OpenVPN to establish secure tunnel between my WAN MySQL-Server Databases and my email server.
To red my private emails on my mobile phone I prefer to use a secure connection to my IMAP-server.
Ananjan offered me a free OpenVPN 2 Cookbook copy for this review. Thank you Ananjan!
The first chapter of OpenVPN 2 cookbook shows you how to establish a point to point connection and secure it, the cookbook provide you all needed commands and useful screenshots and network topologies.
After reading the chapter nine, I had no more questions about the decision between TCP and UDP Protocols, and about the best performance. I thought TCP is very slow in comparison with UDP – but this is not true and it was extensively tested by the book author. – Great job!
If you are planning to setup a secure VPN, acquisition of the OpenVPN 2 Cookbook will save not only your time. You can go to bed without worrying about security issues.