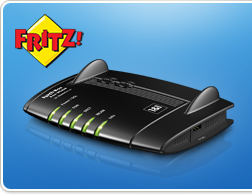 Another day another trouble, I tried to set a new static route on my brand new FritzBox 7320 and I was locked out by wrong default route.
The best upgrade of the fritz box was this part with removing the reset button – there is no reset button!
There are two solutions to reset your fritz box:
– The first one, go to http://192.168.178.1/ and reset. – GREAT I cant :)
– The second one, connect a phone to your fritz box and dial the following number:



After 3 seconds your fritz box will be automatically reseted to the factory settings.
Yeah!