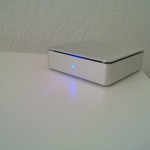 Iam running out of space, the time has come to buy new storage this time not only a HDD with some capacity.
I have some new stuff @home like an new LED-TV(Samsung UE37D6510) with AllShare-DLNA, the new idea was to access all my Data from my TV.
I compared a lot of NAS-Devices and I found Silver Stone DC01, that was exactly that what I needed…
Why DC01?
– Linux powered- YEAH!
– SSH-Access
– full root privileges – Be root;)
Hardware
– Dual-Core ARM-Processor with 750 MHz
– 256 MB – DDR2 RAM
Services
– FTP Service
– SAMBA Service
– NFS Service (Linux)
– Bonjour Service (Mac)
– Web Service (WebDAV supported)
– iTunes server
– DLNA server
– Printer server
– USB mass storage class
– VPN client
– Auto Register to VPN/Proxy Server with MAC Address
– IPv6 ready
The root account can be brute-foreced (I may not publish the actual password)
BTW. you can make a backup of your running config, in the zip-archive you will find the shadow file. Run john the ripper to find out the password.
The only one what Iam missing, is rsync.
UPDATE(10.12.2011 – 16:15)


Ivan found a solution(see Comments) to bring the MAC OS X Time machine backup program to work with Silver Stone DC01 NAS:
The DC01 is able to support the MAX OS X Time Machine Backup program, but only after some tiny fixes which can be found here: http://wiki.myakitio.com/time_machine
UPDATE(31.08.2012 – 23:16)
On request from comments I spend some time and I was able to find some older firmware for DC01 thanks to bad security settings of silverstonetek servers, epicfail but I don't say it; you read it =)
Now here it is:
Version 20110613
Version 20110624