One best friend has two apartments not far away from each other, the typical human idea was to pay only for one internet connection and connect the another apartment over WLAN.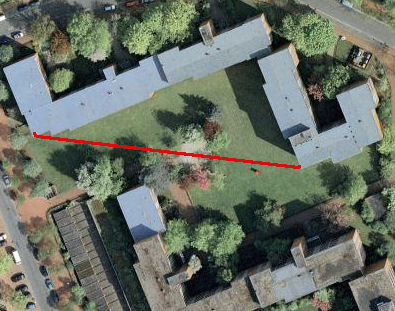 A little map of the area (the red line is the air line between two apartments),
We bought two different antennas, one directional antenna (Yagi) and one little stick receiving antenna.
Some Facts about the Yagi antenna:
Gain: +18dBi
Frequency range: 2,4 til 2,5GHz
Polarization: vertical or horizontal
Angle vertical: 35°
Angle horizontal: 35°
Impedance: 50 Ohm
Connector: RP-SMA
Dimensions: 500mm x 75mm
Weight: 1Kg
It was very easy to find the perfect place for the directional yagi antenna on the balcony and direct it to the second apartment.
Yagi antenna was connected to linksys Cisco WLAN-router WAG354G.
The first connection was established from the second apartment with an acer spire one netbook, it was possible to connect but the signal was very poor (massive packet loss). After some changes on the antennas and finding another WLAN-channel to avoid channel-overlapping the result was really fantastic.
And of course some pictures of the preparation(click to resize):
I hope we don't disturb the signals of hannovers telemax-tower;)