A new topic about about alternative power sources for the arduino board (in my case arduino duemilanove version).
For measurements and experimentations outdoor or while you sitting in the train and wasting your time, you could use a alternative power source for the tiny programmable monster.

Alternative power source I – battery's/rechargeable batteries
You can buy a battery pack holder for your arduino and power supply it with four AA battery's (1,5V or 1,2V It doesn't matter which one) 9V block battery will do the job as well good.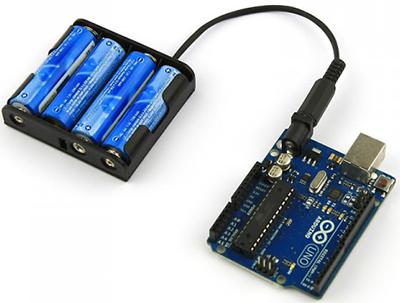 If your battery reach the critical moment and tends to be empty, your boards L LED will blink red that mean you should replace your power source. Attention! that LED can blink on ROM and (or) RAM problems!

Alternative power source II – solar cells
I was able to power my arduino outdoor with a 2 W solar cell
Some technical specification:
Rated power: 2 W
Rated current: 286 mA
Rated voltage: 7 V (DC)
Short circuit current: 330 mA
No load voltage: 11 V (DC)
Dimensions (W x H x D): 315 x 161 x 19 mm
Weight: 0,870 kg


Be careful and pay attention to the right polarity (arduino has a protection but anyhow don't play with fire =) ) The plus (+) is inside the DC power jack.
Alternative power source III – combination of both methods
Also you can juice your arduino with a rechargeable battery pack (four pieces) and attach a solar cell to simultaneously recharge your pack. Very important for this is a blocking diode to prevent that your battery charge you solar cell =)