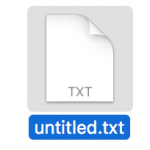 For some of my typical work flows I'm missing the base feature in MAC OS X to create a simple "New File" just like in other operating systems, like right click and "Create new Text File".
For a quick note or just to start to create a new script/app.
Here comes the solution :-)

01. Open Automator and create a Service.
02. Set the input to no input, and the application to Finder.app
03. Drag and Drop the Run AppleScript workflow element onto the grey space
04. Put the contents of this AppleScript in the textbox
05. Save the workflow with a reasonable name (like: New text File)
06. Go to Settings -> Keyboard -> Shortcuts -> Services and assign a shortcut to it.
1
2
3
4
5
6
7
8
9
10
11
12
13
14
15
16
17
18
19
20
21
22
23
24
25
26
27
28
29
30
31
32
33
34
35
36
37
38
39
40
41
42
43
44
45
46
47
48
49
50


set file_name to "untitled"
set file_ext to ".txt"
set is_desktop to false
 
-- get folder path and if we are in desktop (no folder opened)
try
	tell application "Finder"
		set this_folder to (folder of the front Finder window) as alias
	end tell
on error
	-- no open folder windows
	set this_folder to path to desktop folder as alias
	set is_desktop to true
end try
 
-- get the new file name (do not override an already existing file)
tell application "System Events"
	set file_list to get the name of every disk item of this_folder
end tell
set new_file to file_name & file_ext
set x to 1
repeat
	if new_file is in file_list then
		set new_file to file_name & " " & x & file_ext
		set x to x + 1
	else
		exit repeat
	end if
end repeat
 
-- create and select the new file
tell application "Finder"
 
	activate
	set the_file to make new file at folder this_folder with properties {name:new_file}
	if is_desktop is false then
		reveal the_file
	else
		select window of desktop
		set selection to the_file
		delay 0.1
	end if
end tell
 
-- press enter (rename)
tell application "System Events"
	tell process "Finder"
		keystroke return
	end tell
end tell