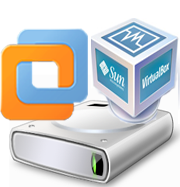 Some days ago I started to give up my VMWare Workstation Server (version: 6.5.1 build-126130) that is running on Debian Lenny.
The reason was it's very difficult to upgrade (you see my installation is a little bit outdated:)) and maintain.
The first step is to migrate to VirtualBox running. And I wrote this little tutorial to migrate VMWare VMDK Image to VirtualBox.
Step 1:
Start Virtualbox



Step 2:
File -> Virtual Media Manager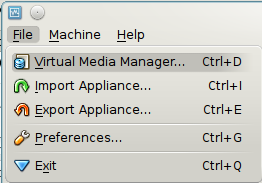 Step 3:
Click on the "Add" button.
Select the VMware .vmdk file you'd like to convert. – Click Open.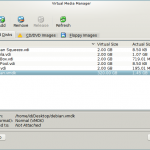 Step 4:
Verify your disk image has been added to the list of images. – Click OK
Step5:
Create a new virtual machine, selecting your imported hard disk image for the storage.
Boot your new VM.
You are only 5 steps away from a easy migration to VirtualBox.
UPDATE
Method II:
To use the second method we'll need an addition tool called qemu used by KVM.
1


piper ~ 

# aptitude install qemu
1
2


piper ~ 

# qemu-img convert debian.vmdk debian.bin




(

VMDK

)

 image open: 

flags

=0x2 

filename

=debian.vmdk
Now you are able to use this converted format for KVM.
You'll will need to use the VBoxManage utility that comes with VirtualBox to convert the *.bin to a native *.vdi format:
| | |
| --- | --- |
| 1 | VBoxManage convertdd debian.bin debian.vdi |